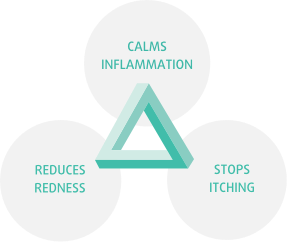 Advantages
• Dermatologically & clinically tested – proven effectiveness
• Based on natural ingredients
• Easy application
• Protective layer on skin
• Smells fresh and dries quickly
• Works through make-up
• Complementary to other skin care products
• Suitable for adults and children over 12 years of age
Effects
• Stops and prevents ITCH
• Rapid ITCH relief
• Soothes itchy and irritated skin
• Calms the inflammation
• Gives a cooling sensation
• Reduces redness
• Prevents scratching
• Non-irritating
ITCHIE
™
Acne may affect people of all ages, all genders and all races. It is most common in adolescents and young adults.
ITCHIE™ creates an invisible layer on the skin, which provides a direct cooling sensation. ITCHIE™ rapidly soothes the itching and irritated skin and effectively calms the inflammation. At the same time, the invisible layer acts as a barrier to protect the skin against irritating environmental influences.
ITCHIE™ is classified as Medical Device Class 1 and produced according to the highest quality standards.
Dermatologically and Clinically Tested, rewarded with a five-star *****
guarantee by Dermatest®, EU.

Test conducted by Dermatest® GmbH,September 2013
Relieved, Soothed, Feel-Well Skin
Brand names/trademarks might be subject to local/regional adaption. Indication for use and claims might differ due to local requirements/registration.
Please be aware that the LAB BOTANIC™ Bavaria products are only available in certain markets.
In case of questions please contact: [email protected]
LAB BOTANIC™ Bavaria and its products are registered trademarks of Pharma Bavaria International GmbH Germany